Locks on their own aren't enough to combat profit-driven bike thieves!
The VAULT 600 D LOCK is more than just a tough, strong, easy to carry and use 'D' lock, it is a complete bike protection system, which includes:
✔ BIKE ID KIT+ Advanced Anti-Theft Identification System - Valued at $34.95
☑ Includes DataDotDNA Microdot technology, making it near impossible for a thief to de-identify and safely sell your bike.
✔ Lifetime free registration on BikeVAULT*
☑ Ensuring your bikes identity and your ownership is secure and searchable for life;
✔ Theft recovery support if your bike is stolen*
☑ Expert support to aid in identifying and recovering your bike.
✔ Insurance benefit*
☑
Insurance Discount may apply.
LOCK SPECS
VAULT 600 D LOCK
✔ 
 13 mm thick toughened steel square U bolt (110mm x 240mm internal opening) encased in a rubber coating to protect your bikes paintwork.
✔ 
Anti-twist double locking mechanism.
✔ 
Swiss technology locking mechanism encased in a hardened steel enclosure.
✔  Hardened steel anti-drill plate and dust cover protecting the lock mechanism.
✔ 
Ratchet clamp for multiple mounting options.
Note:  No lock is impenetrable. To increase the odds of your bike not being stolen, it is very important to park your bike in a secure, visible, and well-lit area and lock the bike frame and wheels to a solid structure.
VAULT 600 D LOCK
Large U bolt
Large 110 x 240mm (internal measurement) shackle suits all bike frames.
Secure & Robust
Anti-twist double lock with Swiss technology locking mechanism encased in a hardened steel enclosure.
Lock features
13 mm toughened steel square U bolt with double bolt locking.
Includes
BIKE ID KIT+

VALUED AT $34.95
What's In The Bike ID Kit+
DataDotDNA® MICRODOTS
1,000 (0.5mm Ø in size) coded microdots applied with DataTraceID® adhesive providing stealth identification to your whole bike.
MICRODOT BULLSEYES
16 x removable marking ring labels for accurate microdot placement and photo recording.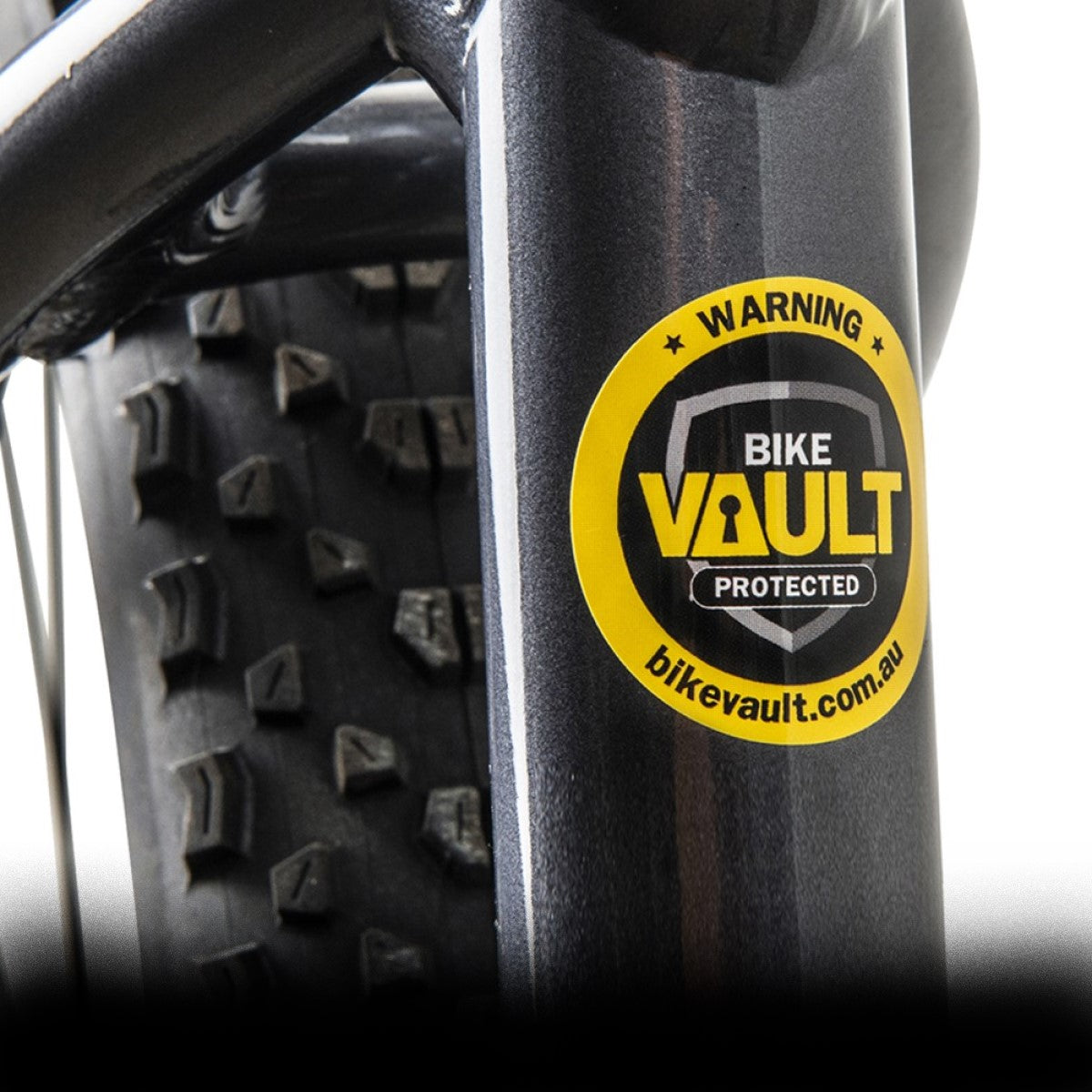 WARNING LABEL
High visibility warning label alerting potential thieves that your bike is protected by BikeVAULT.
Security Labels
High bond tamper evident labels with a proprietary UV Trace adhesive that leaves a hidden footprint in suitable painted / clearcoat surfaces.*
QR CODE LABEL
QR provides quick scan VAULT status (SAFE - STOLEN or FOR SALE) with the addition of Ghost ID* hidden identification visible by black light if the label is removed.
MINI ID LABELS
8 x Mini ID labels allow for discrete component identifcation.
*UV Trace - Hidden Footprint and Ghost ID may not perform on all painted/clear surfaces including e-coat, uncoated aluminium, steel, carbon fibre and plastic.
BIKEVAULT & BIKE ID KIT+ BENEFITS
LIFETIME BIKEVAULT REGISTRATION
Lifetime BikeVAULT Registation ensuring yours bikes identity and your ownership is secure and searchable for life. BikeVAULT part of PropertyVAULT has been helping to protect and recover stolen bikes all over Australia since 2015.*
THEFT RECOVERY SUPPORT IF YOUR BIKE IS STOLEN
In the unfortunate event of theft, BikeVAULT's recovery experts provide personal theft support to help you and the police to find, identify and recover your stolen bike.*
TRAINED STOLEN BIKE SPOTTERS FOR 6 MONTHS
BikeVAULT trained stolen bike spotters search for your stolen bike online for 6 months. *
BIKEVAULT 10% EXCLUSIVE DISCOUNT
Use promo code BIKEVAULT10 when purchasing online or quote the code when calling Velosure 1300 835 678.*
*Terms and Conditions apply - see here.
Exclusive BIKEVAULT 10% Discount
We protect thousands of Bikes